Villa vs. Hotel: Why You Should Choose a Villa for Your Vacation
As travelers, especially beginners, choosing which place to stay during your holiday in Bali can get confusing. Imagine scrolling through hundreds if not thousands of accommodations, comparing prices, then ending up with an unsatisfactory place. Well, you no longer have to worry about that because we will guide you through the pros and cons of a villa and a hotel. By the end of this article, you will know how to get the best accommodations and why you should choose a villa for your vacation, based on your travel plan.
The Pros of a Hotel and a Villa for Your Vacation
Before we decide, let's look at what a villa and a hotel offer us.
Villa

Hotel

Better privacy:

You can do whatever you want all day. In hotels, you have to share facilities with other guests.

More facilities and activities:

Restaurant, bar, fitness center, coworking space, and trip plan/accommodation. Many hotels provide one or more of these facilities for you.

More space for families or groups:

Villas provide all the space you need for your gathering, from the living room to the pool. You won't get this much space in any hotel room.

Strategic location:

Many hotels are situated within the town hall or near popular destinations or attractions.

More exclusive atmosphere:

With privacy comes a sense of exclusivity, and with it, comes luxury.

Hotel staff availability:

The staffs are always available for you. Broken AC, missing wallet, or water issues, just notify the staff, and help will come for you.

A kitchen for cooking activities:

Don't know what to do with your group? Try cooking or grilling. The villa kitchen is all yours!

Reputable chains:

The hotel industry has many reputable chains that travelers are familiar with. This reputation offers trust to travelers so you can be sure of their quality.
How do you choose?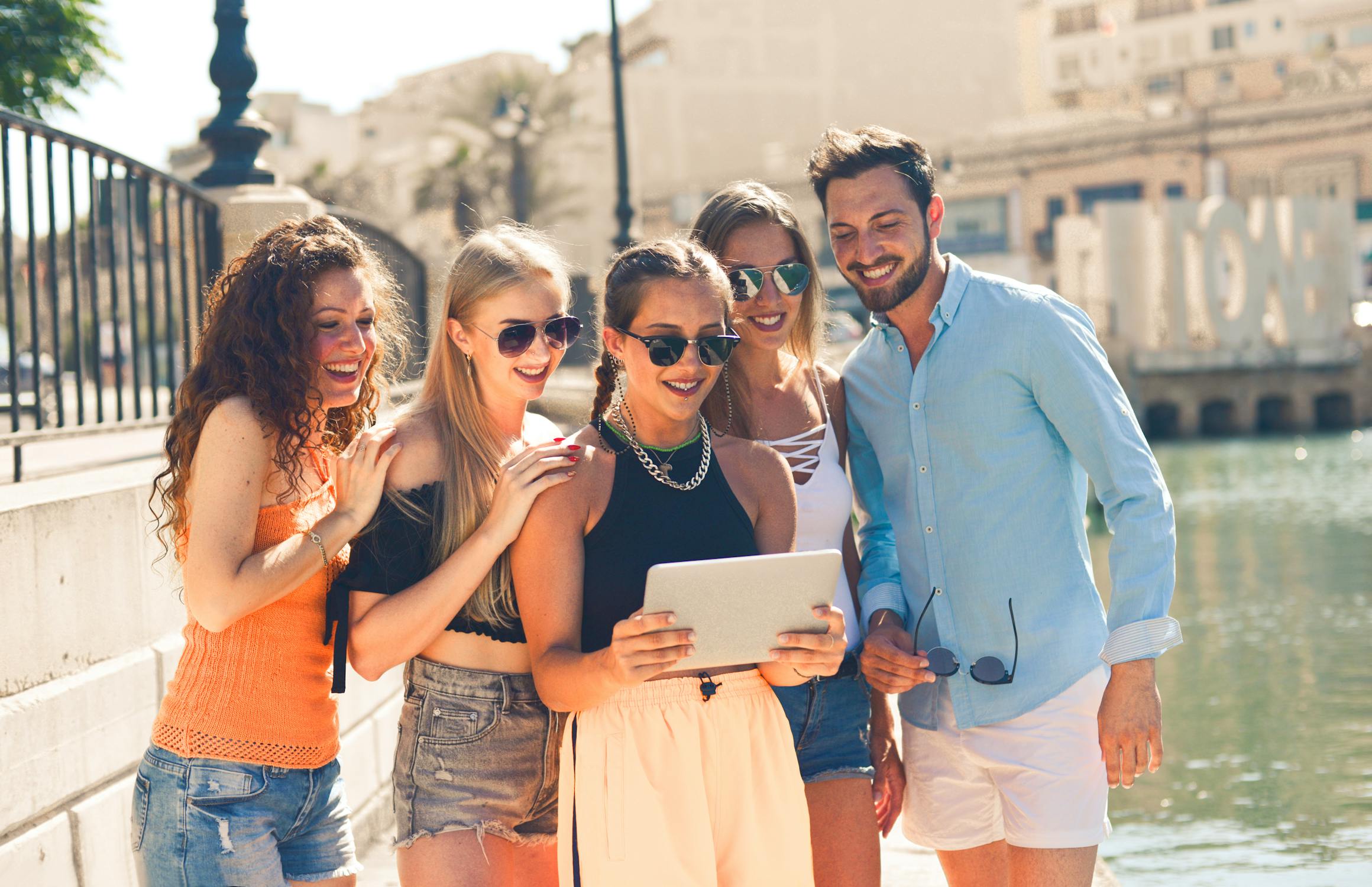 Illustration of Choosing a Villa for Vacation, photo by Andrea Piacquadio on Pexels
First things first, check out your travel plan. If you bring a group of friends to do activities together, we recommend getting some privacy and a bigger space. In this case, a villa is best -suited for you. A villa allows you to hold many activities within. For example, you can throw a small party with your friends or family, complete with a kitchen to cook any food you want of any size. Cooking your food also saves your budget, and you can divert that extra cash into your party preparation. And if cooking is not your fancy, why don't you grill? Grilling can even be the party in itself. No need for a super expensive party like you see in movies.
However, if you bring a small number of people or are looking for activities all day, you'd better book a hotel instead. You'll appreciate the extra convenience and amenities that support your activities. Besides, hotels provide a comfy place to come back to and rest. Many hotels offer amenities such as a fitness center/gym, a bar, a spa, a salon, or even a small yoga studio.
But Why Villa for Your Vacation?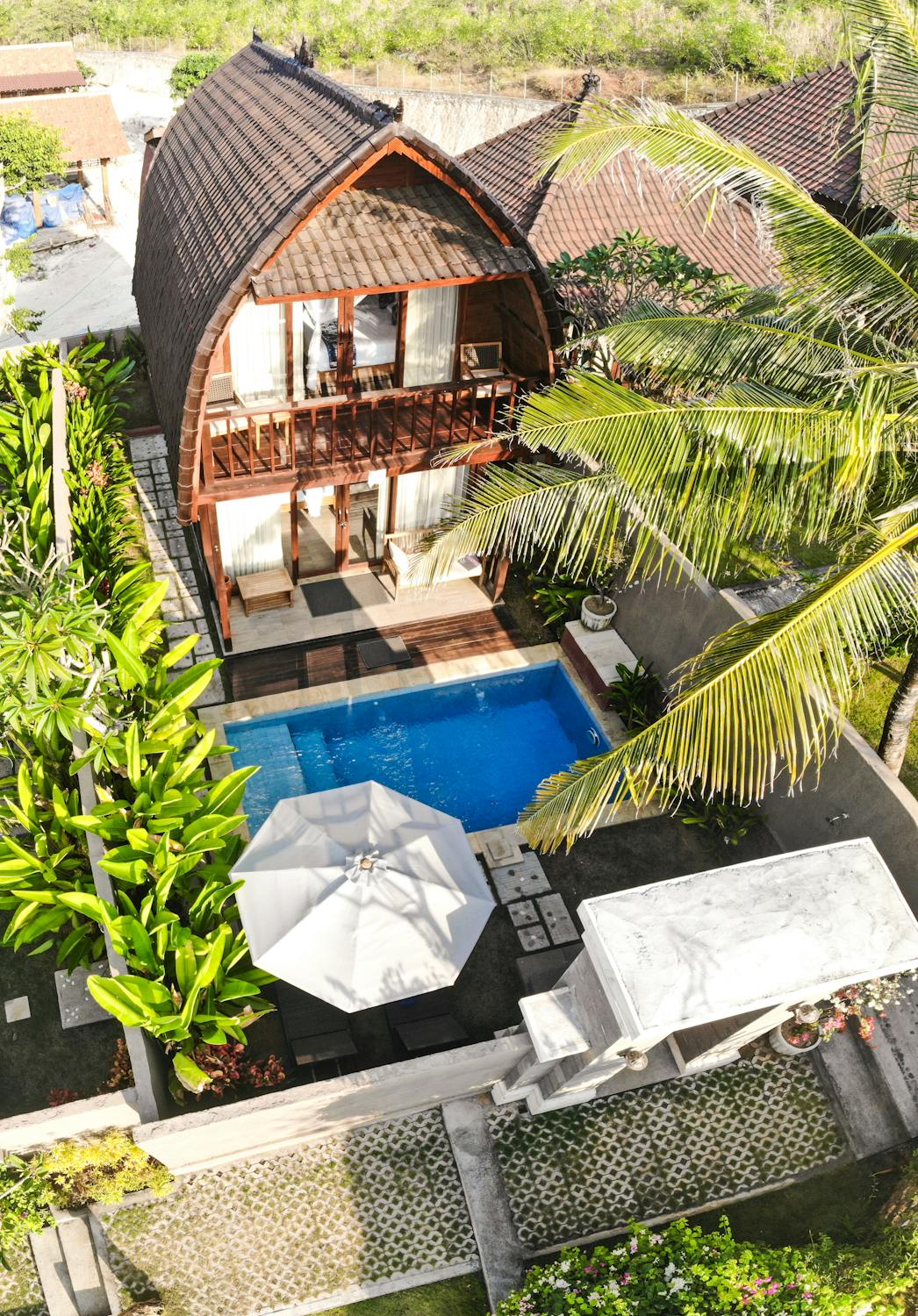 Choosing Villas as Destination, Photo by Kimberly McNaelius on Pexels
Hotels may have more services and features like wellness centers, beauty parlors, fitness rooms, and eateries. But guess what? Many villas in Bali have almost the same features as hotels but with higher quality and value. 
For example, you can find villas with wellness centers or beauty salons where you can get massages, facials, or manicures for a lower price than you would pay at a hotel. Some villas even have fitness rooms or yoga studios where you can work out or meditate privately. You can also find villas with eateries or bars where you can savor tasty food and drinks made with fresh and local ingredients.
Nowadays, it's easy to find such villas in Bali, with many websites and travel apps offering a selection of villas complete with their facilities. Furthermore, reviews from other visitors/guests help you determine the quality of the place and the facilities.
Another thing to consider is that tourist spots in Bali are heavily crowded. But villas offer you a calm and relaxing atmosphere for a break. Even for social butterflies, you can pick villas that are close to tourist spots like Seminyak. Trust us, there are many restaurants, nightclubs, and beaches within walking distance that you won't miss out on.
Tips for The Best Experience in Bali
Here at Bali Island Villas and Spa, we make sure that you get the best experience possible. So here are our bonus tips for you before you book a villa:
Look for an indoor living room with a reliable AC system

Prioritise newly constructed homes to avoid mould problems

Check for available parking spots especially if you're renting a car

Balinese tap water is not drinkable, so check if the villa provides you with water gallons

Ask the staff or the person in charge about how often you'll have cleaning and new towels

Ask if there is loud construction nearby, which is very common in residential areas in Bali

Ask if breakfast is included or if there is a restaurant on site

Look out for discounts or special offers

Check for nearby restaurants, grocery stores, pharmacy stores, and other places near your villa.

Compare prices on different booking platforms

Read reviews and check photos on Google Maps to get a better idea of the condition of the villa.
In conclusion, when it comes to crafting unforgettable vacation experiences, a villa emerges as the quintessential choice. Its allure lies in the harmonious blend of luxury, space, and privacy, offering a sanctuary that transcends the boundaries of a conventional hotel stay. Additionally, Bali Island Villas and Spa can be your number one option, especially If you're looking for the best villas in Seminyak, Bali.